Heli Skiing in the Swiss Valais........the ultimate ski experience !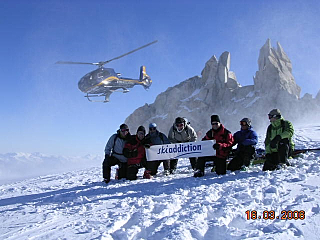 From our base in the Abondance valley we organise our heli trips in the Swiss Valais a 40 minute drive away. Depending on weather and snow conditions we either ski Petit Combin 3672m, The Trient glacier 3325m or Pigne Arolla 3796m.
A typical Ski Addiction heli trip would be as follows.
Decide what ski's you'll use and if required have them serviced. Prepare your rucksack not forgetting camera, sun cream, water and a penknife for the picnic. If you don't own your own ARVA, shovel, probe and harness these will be supplied to you by your guide Jean-Yves Fredriksen.
7.15 Depart accommodation.
8.15 Arrive heli pad for safety briefing and equipment check.
9.00 Helicopter flight.
9.15 Take in the stunning views and fresh alpine air.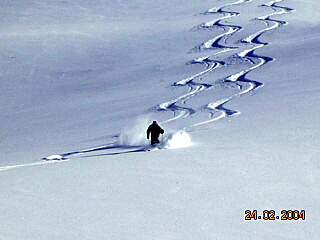 Now there is no rush, so there will be plenty of photo opportunities and time to admire your perfect powder tracks
During the descent you will stop for the customary Genepi aperitif and a leisurely Ski Addiction heli ski picnic.
Once back in resort the only place to head is the bar, for a few beers and to reflect on a very memorable ski experience.
Costs for a heli ski excursion from €290.00 per person to include transfer, services of high mountain guide, safety equipment and helicopter transport.